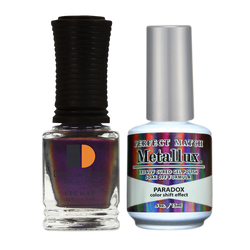 muscabeauty
Perfect Match Gel & Lacquer Duo Metallux- Paradox
Purple to fire orange to crimson metallic finish; Color shift depends on angle of light.
Watch these hypnotizing Metallux colors transition between shades for a beautiful multi-tone metallic effect right before your eyes!
Easy application, quick soak off
High gloss shine that lasts for weeks
LED/UV cured
No running, shrinking or color fading
Comes with FREE color matching Dare to Wear® Nail Lacquer for touch-ups and perfectly matched manicures to pedicures.