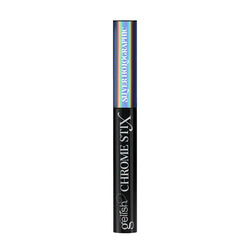 muscabeauty
Gelish Chrome Stix - Silver Holographic
Introducing Gelish Chrome Stix all-in-one pen applicator, the easiest and fastest way to achieve a gorgeous chrome finish to your gel manicure! Chrome Stix come in six multi-dimensional shades that are guaranteed to take your nail look to the next level. Chrome Stix offer a reflective chrome shine that cannot be achieved with gel polish or lacquer applications alone.
Directions:
Rub Gelish Chrome Stix applicator tip over nail finished with Gelish No Cleanse Top Coat. (Only cure for 30 seconds if using as a base for Chrome Stix)
Apply Gelish No Cleanse Top Coat
Cure for 60 seconds in Gelish 18G LED Light.