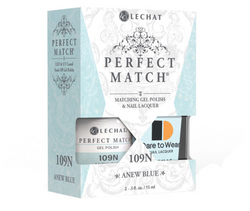 muscabeauty
Perfect Match Gel & Lacquer Duo Set-Anew Blue
Hit the restart button this summer. Stemming from the Greek words for "whole" and "new", Holocene embraces renewal with six new shades of color that remind us of the awe of nature.
Easy application, quick soak off
High gloss shine that lasts for weeks
LED/UV cured
No running, shrinking or color fading
Comes with FREE color matching Dare to Wear® Nail Lacquer for touch-ups and perfectly matched manicures to pedicures.