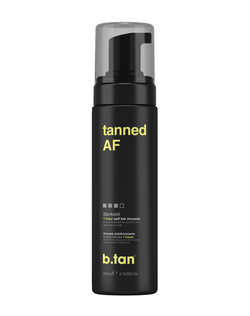 muscabeauty
B.Tan - Tanned AF bronzing mist - NEW
tanned AF
darkest 1 hour bronzing mist. spray on. get dark. glow on.
what comes easy, won't last forever. but that shouldn't mean you can't bask in all its super sexy bronzed up glory while it lasts… let life be as hard as choosing tonight's outfit or which selfie to upload and just embrace the kind of glow that comes as easy as this bronzing mist.

vegan friendly. paraben free. no gross tan smell. no added nasties.
200 ml | 6.7 fl oz