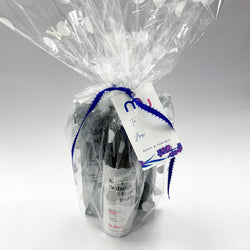 muscabeauty
b.tan - ain't nobody got time for that and tan mitt gift set
ain't nobody got time for that
pre shower 10 9 minute tan mousse
things to see, people to do... some people do it in 10, we do it in 9. get golden in just 9 minutes. get naked, apply this luscious tan, wait 9 minutes, rinse off in the shower for 45 seconds in lukewarm water and you're ready to rock n' roll!
vegan friendly. paraben free. no gross tan smell. no added nasties.
200 ml | 6.7 fl oz
+
i don't want tan on my hands.
OSFA
a tan mitt that helps create the most awesome tan in the world, without the nasty tan hands.
no excuses! use this mitt when applying your tan. it will stop your hands looking like you have pigged out on doritos, while helping you get that awesome dark tan!